MY BELATED TRIBUTE TO MOM


It's hard to believe that it's been 38 years since mother passed away in 1977. I wish I could have spoken at her funeral, but I was too broken-hearted at the time. I still remember it like yesterday... and of course, my memory of her remains fresh and vivid.

Mom was my best friend, and the kindest, most loving person I've ever known. She was married to my dad for 42 years, and together they raised their family to be people of character, faith, hard work and good moral values.

After her cancer was discovered in 1971, she rededicated her life to Christ, and began a prayer campaign for all her kids and grandkids to come to the Lord. While none were anything less than good and decent people, not all were living for God... especially me.

Mom never knew the extent of the problems and mischief I got into, but only that my heart had wondered far from the God of my youth. She prayed intensely for me, shared God's love with patience and kindness... and eventually, when I found myself in great despair from the mess I had made of my life, I finally reached out to the Lord... who forgave me, restored me, and gave me new meaning for life.

I will forever be grateful to mom, not only for her maternal love, but for her persevering prayers that God used to bring me back to Him. I have never stopped missing her, and look forward to seeing her again one day in the presence of our Savior in Heaven.
Dale A. Robbins, 2015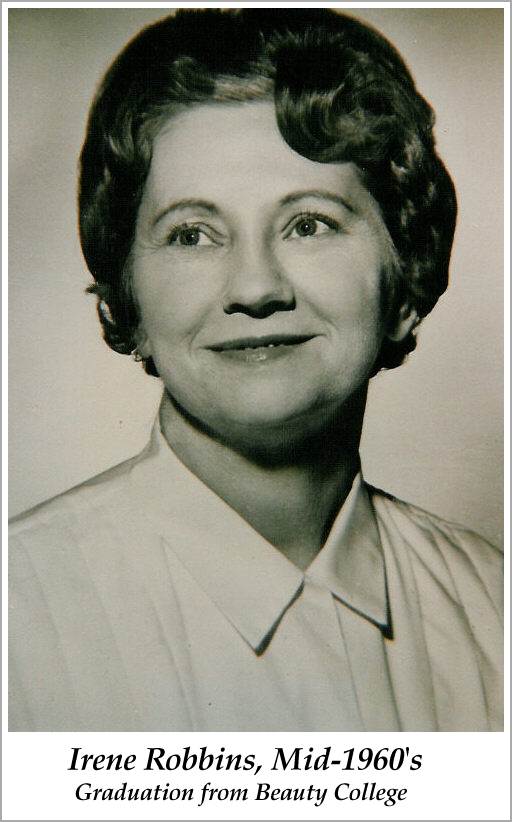 OBITUARY FOR IRENE ROBBINS - On Monday, January 10, 1977, at Methodist Hospital in Indianapolis, Irene Robbins, age 61, went to be the Lord. She succumbed to complications relating to cancer, after waging a valiant battle against the illness for six years.

Born January 18, 1915 in Hamilton County, the daughter of Isaac and Bessie Summitt Brown, she spent most of her life in Adams Township. She married Myron F. Robbins on August 24, 1935. Together they had five children: Two sons, Myron Jr (Gale) of Marion and Rev. Dale A. (Jerri) Robbins, Sheridan; three daughters, Mrs. Helen (Gerald) Sanders, Lebanon, Mrs. Joan (Fred) Heine, Carmel and Mrs. Barbara (John) Hiatt, Baker's Corner; and 10 grandchildren.

Coincidentally, her parents also had five children, two sons and three daughters. Her two brothers are, William (Sarah) Brown, Cicero and John (Charlote) Brown, Noblesville; Two sisters, Mrs. Carol Opal (Harold) Spear, Lebanon, and Martha (Kenneth) Lutz of Sheridan (both deceased).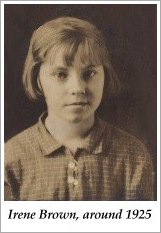 Irene attended Lighthouse Tabernacle Assembly of God Church in Carmel and was a former member of the Travelaires Club in Sheridan. She also belonged to the Sheridan Extension Homemakers Club and was a charter member of the Sheridan Historical Society. For many years Irene worked as a beautician in the Sheridan area, had been previously employed by RCA in Indianapolis, and was homemaker and farm-wife to her husband Myron Sr. She attended Westfield High School and Indianapolis Beauty College.

Services will be held Wednesday at 2 p.m. at the Lighthouse Tabernacle Assembly of God Church in Carmel, with the Rev. William Totman and Rev. Jesse Griffith officiating. Burial will be in Crown View Cemetery in Sheridan.

Friends may call at the Kercheval Funeral Home in Sheridan after 3 p.m. Tuesday. The body will lie in state for one hour prior to the service at Carmel.


---
Myron, Dale, Irene 1965
Mom, Lassie and Teddy, 1964
Jerri, Dale and Mom, 1976
Dale, Mom, Mark, Helen, Dad, Tommy, 1970
Irene 1967
Dad and Mom, Boxley Rd home, mid 1960's
Mom's greatest joy in life was her family, her kids and grandkids... and her greatest legacy is the love that both she and dad invested in each of us. Mother was a hard working person, and besides raising five kids on a meager income, she helped with many of the daily chores on our small 20-acre farm... and also endured a lot, including the absence of an indoor bathroom, until we moved to a new 3-acre home on Boxley Road in 1959. After this we no longer farmed, but she and dad did maintain a large garden, along with a small number of sheep and livestock... and she enjoyed working in the large yard, planting shrubs, trees, flowers, and playing with her Collie, Lassie, and my little Terrier, Teddy. In the 1960's she worked on an assembly line at RCA in Indianpolis for a time, and after graduating from beauty college, cut and styled hair in a shop in Sheridan, as well as from our home. While my dad had a more stoic personality, mother expressed her emotions freely... was quite sensitive, cried easily when moved, and had a great sense of humor. She was a fun, playful person, and I can remember many times of laughter in our home. She and our aunt Sarah Brown (her brother Bill's wife) always seemed to have something to laugh about... and somtimes laughed so hard, they'd turn red in the face! Mom loved music, had a good singing voice, and occasionally played our upright piano, something she learned when she was young. She had also played the cornet in the band when she attended Westfield High School. My dad was not as gifted musically, but would sometimes sing to my mom at night... especially if she had been sad or upset. The song I remember most, was "Goodnight Irene," a special song between them for years (which became popular the year they were married). I was only 4 or 5 years old, but can still remember the sound of his squeaky voice, singing to my mom in the darkness of their room at bedtime when we lived on our little farm. She and dad endured many hard times, but they also enjoyed many wonderful times and a full life together, remaining devoted to their marriage for 42 years. (The photo at the right is young Myron and Irene, probably before they were married, around 1935. In that photo, and the one with her in the open car door lower left, she bears a shocking resemblance to our only daughter, Angie.)
Irene Brown, probably 1934
Dale, Irene, Danny, Myron, 1963
Mom playing with "Buster" around 1953
Jeff, Myron, Danny, Dale, Irene, Julie, 1971


(Dale's graduation party at Joan's house in Sheridan)

Dale, Dad, Mom, 20-acre farm, 1953
Mom, Dad, John Hiatt, 1965
Mom and Dad on vacation, probably 1972
The Robbins Family 1955
Myron Jr, Helen, Myron Sr, Irene, Joan,
Barbara, Dale (on Joan's lap)
(The only known photo of the whole family)
Dale & Jerri's Wedding Dec 6, 1974, Sheridan Church of God.

Pictured: Jerri's Grandma Pane, Jerris mom, Corene Keller, Jerri, Dale, Dale's mom, Irene, Dale's Dad, Myron.