Hamilton County's Last Civil War Veteran
Thomas Wheatley Brown
1834-1928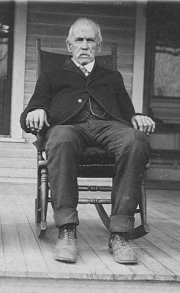 Thomas Wheatley Brown was Hamilton County, Indiana's oldest surviving veteran of the Civil War.[1] Brown served as a Private under the command of Colonel Abel Streight's 51st Regiment Indiana Infantry,[2] Company D, from Dec 10, 1861 to June 19, 1865.

[3]

Brown's company served in major battles of the Civil War in Kentucky, Tennessee, Georgia, Alabama and Mississippi. Besides contributing to other campaigns, he engaged in direct combat at the battles of Shiloh, Stones River and Vicksburg. He and the 51st also participated in Streight's raids through Alabama, Mississippi and Georgia in 1863, the latter conflict which resulted in his being wounded in the left hand.

Brown and others from his company were captured by Confederates and sent to Belle Island prison near Richmond for three months until released as a result of a prisoner exchange. According to his service record he was hospitalized on several occasions due to illness and wounds, but remained with his regiment until the close of the war. [4]

Of special note, an officer from his same company, Marion T. Anderson of Kokomo, Indiana, Captain of Company D, was awarded the Medal of Honor for his heroic action during the Battle of Nashville on Dec 16, 1864.[5]

Personal life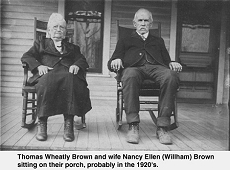 Thomas Brown was born on March 3, 1834, one of twelve children of Evan and Nancy (Clark) Brown of Mercer Co, KY. He married Nancy Ellen Wilham in Johnson Co, Indiana in 1864, and together they had 11 children.

For his many years after the war, Brown worked as a farmer. For the remainder of his life it was said that despite relatively good health, he suffered discomfort and pain in his feet from the many hundreds of miles marched during his past infantry service. This however did not seem to disuade his mobility but he remained quite active into his more advanced years. At the age of 91 he still performed regular chores around his home, maintained a good sized garden and truck patch, and walked daily from his rural home to the town post office to retrieve his mail.

Thomas Brown died on January 28, 1928, at the age of 93, in Atlanta, Hamilton Co, Indiana. He is buried in Tipton, Indiana.

Greater accounts of Thomas Brown's regiment can be reviewed in the History of the 51st Regiment Indiana Infantry, by Wm. R. Hartpence, Sergeant Major, 1894, available at www.archive.org/details/veteranvolinf00hartrich.

— Written by Dale A. Robbins, great-grandson of Thomas W. Brown

References:
1. The Noblesville Ledger 01/31/1928 (click to view)
2. http://en.wikipedia.org/wiki/51st_Indiana_Infantry
3. National Archives and Records Administration, Film M540, Roll 9
4. The Tipton Tribune, 03/04/1925
5. History of the 51st Regiment Indiana Infantry, by Wm. R. Hartpence, Sergeant Major, 1894


---

Below is a reproduction of a front-page news article from The Noblesville Daily Ledger, which reported the death of Thomas W. Brown, on Tuesday January 31, 1928
(Click to view the actual photocopied article, acquired from the Noblesville Public Library microfilm archives)

Thomas W. Brown passed Away After Long Illness
FUNERAL SERVICES HELD TUESDAY
Succumbed to the Infirmities of Age




The funeral services of Thomas W. Brown, the oldest civil war veteran in Hamilton county was held in Atlanta Tuesday afternoon. Rev. J. C. Reynolds had charge of the services. The death of Mr. Brown occurred Sunday afternoon. He was ninety-three years of age on the 3rd of last March. The condition of the aged man had been critical for some time and the end was not unexpected. For the past several weeks his son, Isaac of Westfield, had been in constant attention on the parents, Mrs. Brown also being in very feeble health.





Thomas W. Brown was born in Mercer county, Kentucky, March 3, 1834. He was a son of Evan and Nancy (Clark) Brown, his father being a Virginian and his mother was also of that state. The parents were wedded in Virginia and emigrated to Mercer county Kentucky in the twenties of the nineteenth century. Of a family of twelve children the Atlanta veteran was the last survivor.





Thomas W. Brown left Kentucky when 27 years of age and located in Johnson county, with relatives and while there joined the Union forces with a three-months' volunteer company, re-enlisting for a term of three years. During his service he took part in many battles and engagements, among them being the battles of Prairieville, Ky., Shiloh, Stone River and Vicksburg, at

which place he was captured and taken to Belle Island where he was a prisoner of war for three months. He was exchanged and sent to Fortress Monroe, thence to Baltimore and from there to Camp Chase, O. From that place he was sent to Camp Morton, where he secured a thirty-day furlough to go to Johnson county where the biggest event of his life occurred, this being his marriage to the companion who has been with him throughout the long years. Mrs. Brown is past 80 years of age and she also is in feeble health.





Mr. Brown and his wife came to this part of the state in 1871, locating on a farm northwest of Atlanta. They resided there until a few years ago when they took up their residence in Atlanta. In May, 1925 they decided to enter the soldiers' home at Lafayette, but remained there only a short time, getting homesick for their own home and friends and they returned to Atlanta.



March 27, 1864, Thomas W. Brown was united in marriage to Nancy E. Wilham, daughter of Mr. and Mrs., William Wilham of Johnson county, and this union was blessed with eleven children, six of whom are still living. The children are Thomas Brown, Jr., of Cicero; Isaac Brown, of Westfield; Mrs. Hiram Teter, of Boxley; Mrs. William Dawson and Mrs. Charles Graham, of Tipton, and Mrs. Sam Clark, of Atlanta. He is also survived by a number of grandchildren and great-grandchildren.

---
Additional Links to Histories Relating To The Fifty-first Indiana Infantry
History of the 51st Regiment Indiana Infantry, by Wm. R. Hartpence, Sergeant Major, 1894.
History of the 51st Regiment Indiana Infantry, by Wm. R. Hartpence, Sergeant Major, 1894, Download full pdf
Compendium of Regimental Histories - Fifty-First Indiana Infantry.
Deeds of Valor at Battle of Nashville - Metal of Honor, Captain Marion T. Anderson, 51st Indiana Company D.
War of the Rebellion - Official Records.
Thomas Wheatley Brown, listed in Civil War academic reference